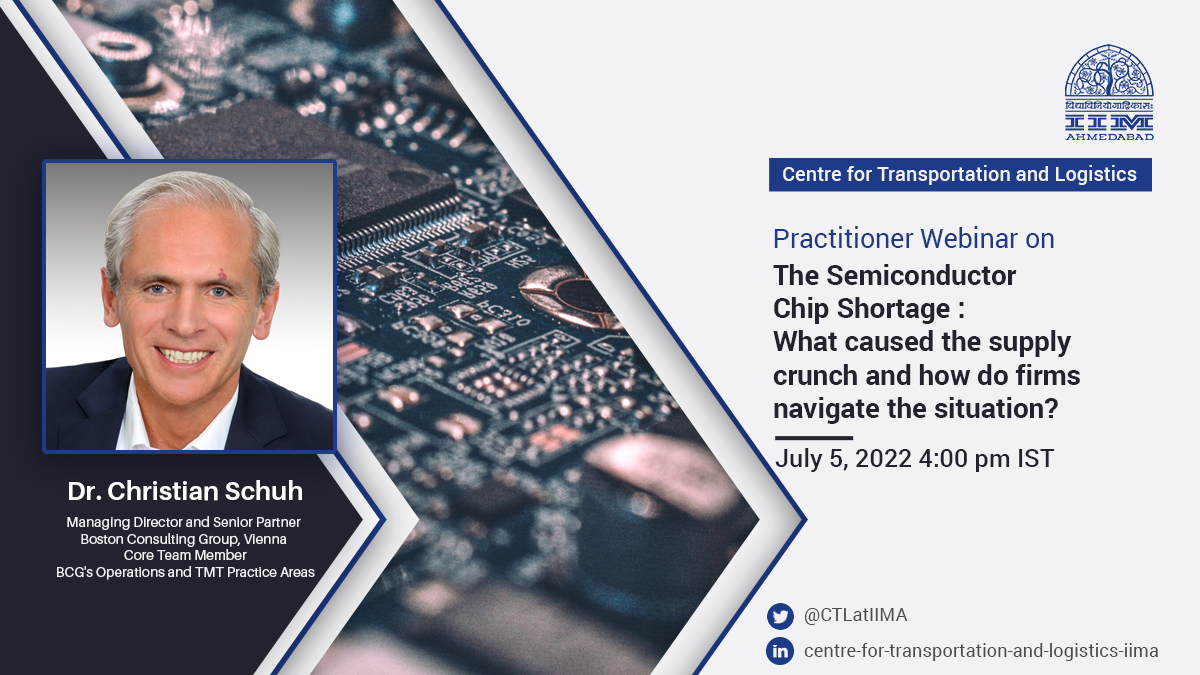 Abstract
This talk is based on a study carried out on the semiconductor industry and the industry's supply chain complexity. It shall explain why in 2021, the global automotive industry lost 10 million cars because of a shortage of semiconductors while TESLA was able to grow deliveries by 87% in the same period. The different facets of application of semiconductors, the supply chain choke points and how to build supply chain resilience for the industry. 
The webinar shall explain the supply chain resilience for a firm, as the capacity of a company to absorb stress, recover critical functionality and thrive in altered circumstances. At a high level, how firms could anticipate and prepare for worst-case scenarios, how by creating different types of capabilities firms respond to crises, how by connecting to broader systems firms can get an external buffer, and how firms can hold excess capacity and resources to buffer shocks, how by organizing in loosely linked modules firms can isolate its impact and how by building capability to respond firms could see quick changes.
About the Speaker
Dr. Christian Schuh is a Managing Director and Senior Partner in the Vienna office of the Boston Consulting Group. He is a core team member of BCG's Operations and TMT practice areas. As an expert in high-end operations topics, he has worked with clients in the automotive and high tech industries in Europe, the US, and Asia. He specializes in large scale procurement transformations with a focus on guiding supplier ecosystems and shaping the product life-cycle for technology driven clients. Prior to joining BCG, Christian was a Partner at A.T. Kearney where he led the Procurement Practice. He co-authored several books on Procurement: The Purchasing Chessboard on choosing the right methods to reduce cost, Supplier Relationship Management on maximizing value received from suppliers and The CPO on how to build a world class procurement organization. Christian obtained a MSc. degree in Aeromechanics and a PhD in Artificial Intelligence from TU Graz, Austria. He is fluent in German and English and speaks Spanish, Italian and French.