Join leading leaders Rohan Tiwary, Neha Bhasin and Aditya Sharma as they discuss the leadership lessons derived from their own experiences in the panel discussion 'Young Leaders' moderated by Professor Promila Agarwal and Professor Amit Karna.
Proving that age is just a number, join our panellists as they discuss their experiences in managing diverse, multifunctional teams, challenges faced in leading millennials & generation Z, and how they go about building a growth mindset. This panel discussion conducted in collaboration with the Red Brick Summit (TRBS) on 'Young Leaders' will be the first of its kind exploring these themes and more.
Speaker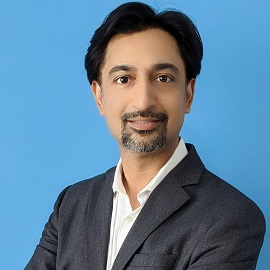 Rohan Tiwary leads Media & Entertainment partnerships for the APAC region for Global Platforms & Ecosystems. In this role, he is focused on content partnerships and strategy for key media verticals like Entertainment, Sports, News as well as exploring verticals Beyond Media that can elevate the Living Room experience. Prior to joining Google, Rohan led management consulting projects for the Communications, Media and Technology industries at Accenture and has held senior roles across sales and corporate development at the Times Group and Disney STAR in India. He is also an active member of XA network, an investment network focused on elevating South East Asia start-ups.
Neha Bhasin has more than 15 years of wide-ranging experience in building creative and content strategy for fashion eCommerce, brand development and digital advertising. Neha is currently the Director of Brand communications at Zalora - heading the regional content and brand strategy across SEAsia markets. Previously, Neha has played several key leadership roles at Amazon India Fashion and Myntra-Jabong - where she was responsible for developing industry-defining concepts for the large-scale Fashion eCommerce market in India. Neha also had an award-winning streak at Cosmopolitan and Marie Claire where she started her career.
Known for her unique and innovative visual language, Neha has experimented with personalized content, social-media campaigns, monetization and engagement techniques. Her body of work is a marquee of creativity and customer delight. Neha lives and breathes Fashion - she attributes her impact on the industry to the exceptional organizations she has been able to build.
Aditya Sharma is a Partner at McKinsey & Company and leader of the firm's banking analytics work in Asia and its Strategy & Corporate Finance Practice in India. One of the youngest to be elected Partner, Aditya was featured in the "Forbes India 30 Under 30" list in 2018. He brings deep expertise in digital and analytics to enable financial institutions to transform their operating model, launch new businesses, build sustainable capabilities, and create tangible value. Aditya has served financial services institutions in Asia and North America on retail, small-to-medium enterprise (SME), corporate banking, insurance, and wealth and asset management across several functional themes including digital and analytics, mergers and acquisitions, risk, sales and marketing, and strategy. He has co-authored several publications including McKinsey's seminal three-volume report on Indian banking and opinion articles in leading newspapers. Aditya completed his MBA at the Indian Institute of Management, Ahmedabad (IIMA). He also holds a B.Tech. in Chemical Engineering from the Indian Institute of Technology, Kharagpur.