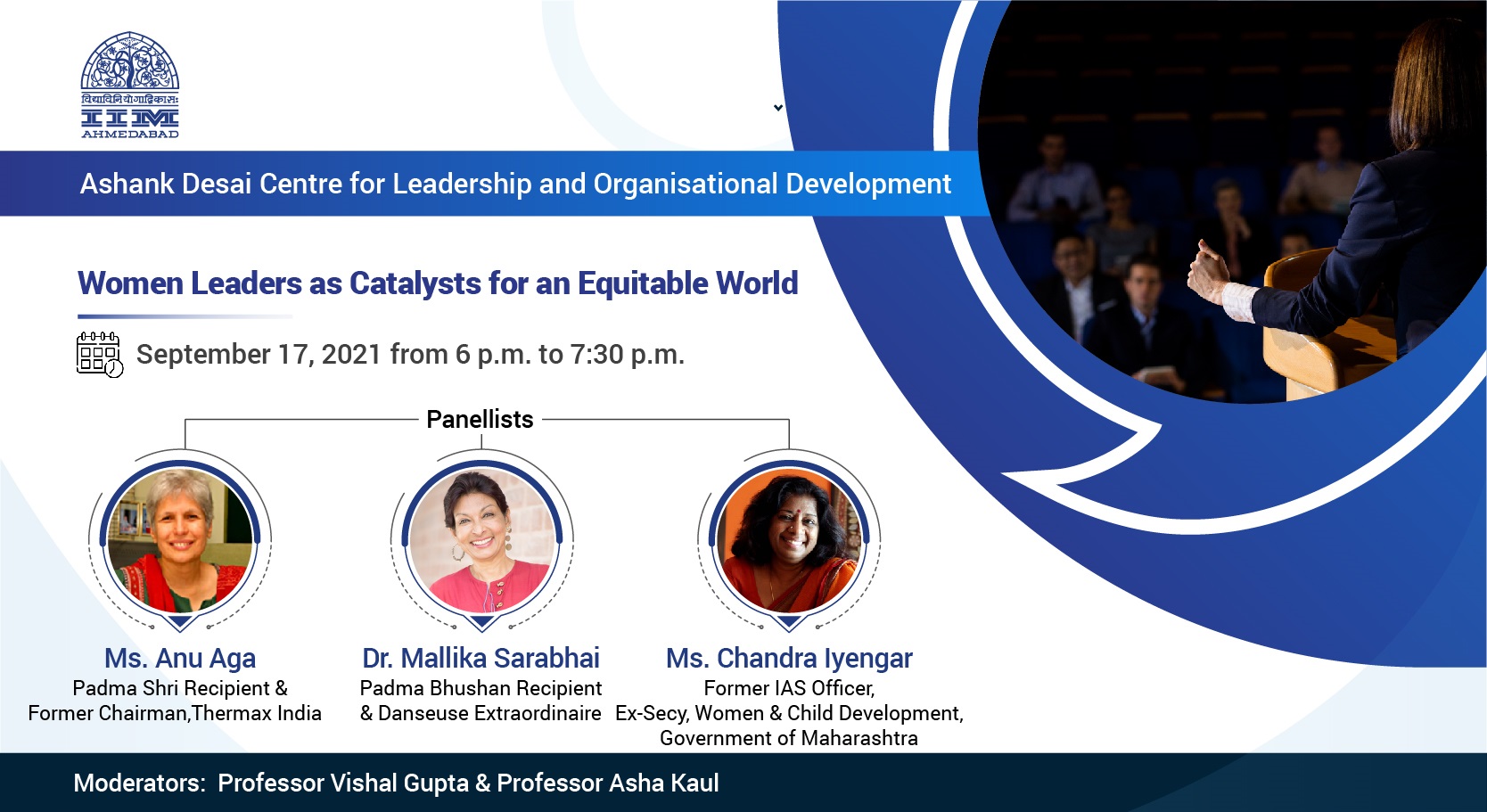 Join trailblazing women leaders Ms. Anu Aga, Dr. Mallika Sarabhai and Ms. Chandra Iyengar as they discuss the leadership lessons derived from their own experiences in the panel discussion 'Women Leaders as Catalysts for an Equitable World' moderated by Professor Vishal Gupta & Professor Asha Kaul
From public policy and corporations to sports and STEM, diverse leadership benefits everyone. Leaders need to represent the people they serve to best understand their wants and needs. The future is better with women at the table where decisions are made. The panel discussion on 'Women Leaders as Catalysts for an Equitable World' will be the first of its kind exploring how women have contributed to leadership across the social, economic, public policy and governance sectors.
Speaker
Ms. Anu Aga retired as the Thermax Chairperson in 2004 and from the Thermax Board in 2018. She is focusing on social causes and is closely associated with the Thermax Foundation. She is keenly involved with NGOs – 'Akanksha' and 'Teach for India', which promote education for the underprivileged. She writes extensively and gives talks about corporate governance, corporate social responsibility, role of women, education and secularism.
Dr. Mallika Sarabhai has been one of India's leading choreographers and dancers for over four decades. In constant demand as a soloist and with her own dance company, Darpana, she has been creating and performing both classical and contemporary works. She has also produced over 3000 hours of television work talking about issues of the environment, women, communal harmony and violence, using the most popular genres of TV. She has a Ph.D. in Organisational Behaviour and has been honorary Director of Darpana Academy of Performing Arts for 40 years.
She first came to international notice when she played the role of Draupadi in Peter Brook's The Mahabharata for 5 years, first in French and then English, performing in France, North America, Australia, Japan and Scotland.
Always an activist for societal education and women's empowerment, she began using her work for social change. In 1989 she created the first of her hard-hitting solo theatrical works, Shakti: The Power of Women. Since then, she has created numerous stage productions which have raised awareness, highlighted crucial issues and advocated change, several of which productions have toured internationally as well as throughout India.
In the mid-90s she began to develop her own contemporary dance vocabulary and went on to create short and full-length works which have been presented in India and over 50 other countries.
Over the last 18 months she has motivated hundreds of people through her many webinars and interviews, and through Darpan's project Nritya Parichay to bring mental health and self-esteem to thousands of marginalized youngsters.
Ms. Chandra Iyengar holds degree in MA from Miranda House, New Delhi and is an officer of the 1973 batch of the Indian Administrative Services (IAS). Over the course of her career, she has led several departments in the Government of Maharashtra and the Government of India, such as Women & Child Development, Higher & Technical Education, Rural Development, and Health. As the Secretary for Women & Child Development for the Government of Maharashtra, she was responsible for drafting and implementing the first-ever state policy for women's empowerment in India.
She has served as Additional Chief Secretary – Home Ministry for the Government of Maharashtra and as a Director on the Board of Bharat Heavy Electricals Limited (BHEL) and also as a Chairperson for the Maharashtra Energy Regulatory Commission (MERC).