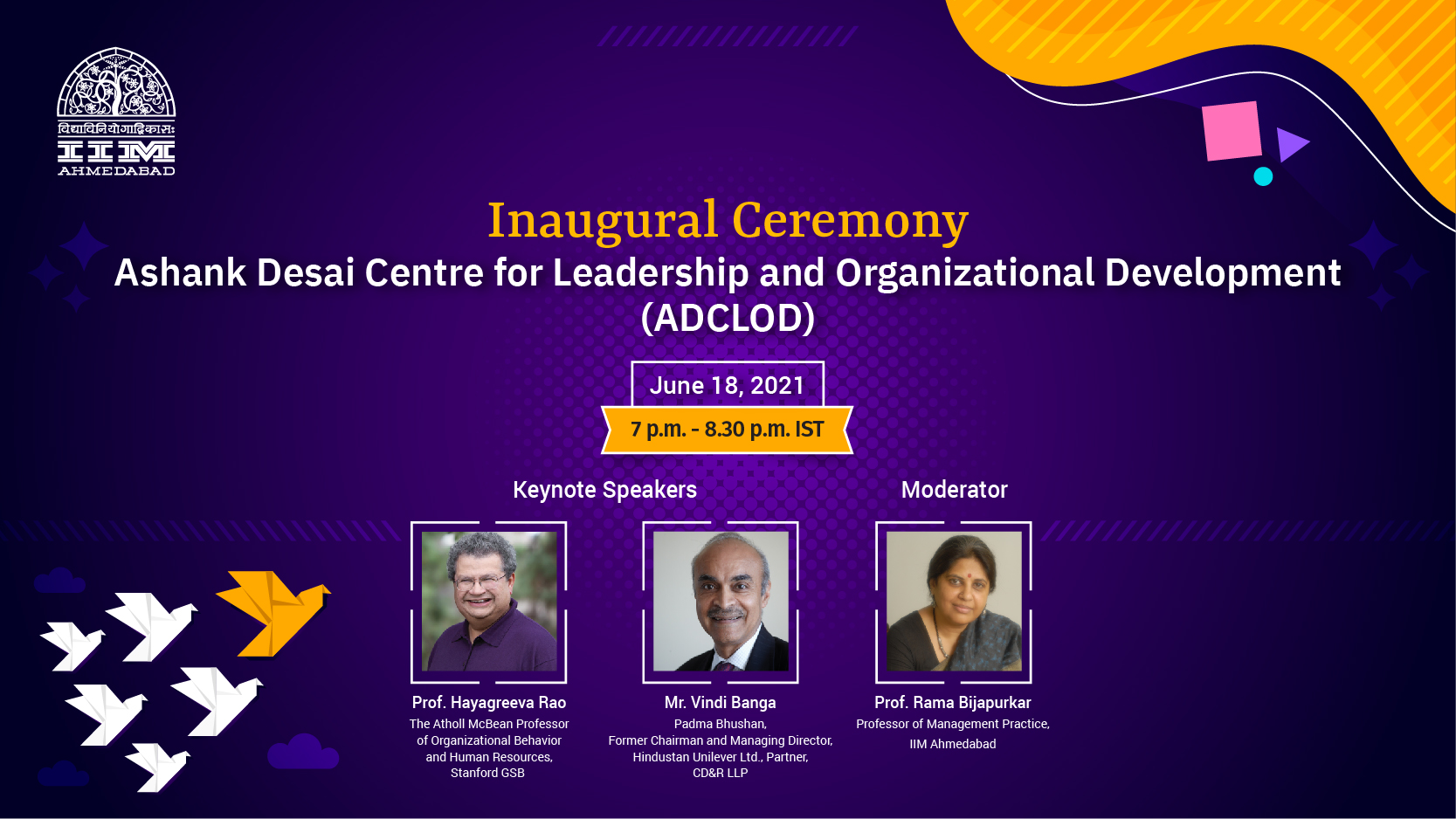 In discussion with Prof. Hayagreeva Rao and Mr Vindi Banga and regarding Leadership in Uncertain times, contemporary research in the area and insights from practice.
Speaker
Prof. Hayagreeva Rao is the Atholl McBean Professor of Organizational Behavior and Human Resources at the Stanford University. Professor Rao studies collective action within organizations and in markets. His research and by implication, his teaching, revolves around scaling up mobilization, innovation, and talent in organizations. His research has been published in top journals such as the Administrative Science Quarterly, American Journal of Sociology, American Sociological Review, Academy of Management Journal, Organization Science and Strategic Management Journal
Hayagreeva Rao is a Fellow of the Center for Advanced Study in Behavioral Science, a Fellow of the Sociological Research Association and also a Fellow of the Academy of Management. He has consulted with, and conducted executive workshops for, organizations such as Aon Corporation, British Petroleum, CEMEX, General Electric, Hearst Corporation, IBM, Mass Mutual, James Hardie Company, Seyfarth and Shaw. Additionally, he also worked with nonprofit organizations such as the American Cancer Society and governmental organizations such as the FBI and CIA, and the intelligence community.
Among the awards he has received are the Sidney Levy Teaching Award from the Kellogg School of Management, and the W. Richard Scott Distinguished Award for Scholarship from the American Sociological Association.
Mr. Vindi Banga joined CD&R's London office in 2010 as Partner after a 33-year career at Unilever.
Vindi was previously Chairman of CD&R portfolio companies Kalle GmbH, Mauser GmbH and Diversey, Inc. He served on the Board of CD&R portfolio companies, High Ridge Brands and Diversey, Inc. Mr. Banga helped establish the Firm's joint venture in India, Kedaara Capital Advisers.
He is the former President, Foods, Home and Personal Care and member of the Executive Board at Unilever. Previously, Mr. Banga served as President, Home and Personal Care Asia and as Chairman and Managing Director of Hindustan Unilever Ltd, Unilever's operating company in India.
Vindi was appointed Chair of Marie Curie in January 2018. He is the Senior Independent NED on the Board of GlaxoSmithKline plc, and a NED on The Economist Group Board. He joined the board of The International Chamber of Commerce (UK chapter) in February 2021. He is also a member of the WEF's Global Future Council.
Mr. Banga holds a B.Tech. Mechanical Engineering from the Indian Institute of Technology and a M.B.A. from the Indian Institute of Management (Ahmedabad). He served on the Prime Minister of India's Council for Trade & Industry from 2004 to 2014 and was awarded the Padma Bhushan by the President of India in 2010.