Join distinguished scholar Professor T. V. Rao as he shares his life's experiences and learnings on working with leaders and helping them become effective through 360-degree feedback.
Giving and receiving feedback effectively is just as important for leaders as follow-through is for athletes. Without it, leaders alienate their people and often leave loose threads hanging. Objectives become stalled and communication can grind to a halt. But when feedback is conveyed and received regularly, engagement rises, productivity increases, and organizations become more closely aligned with the values that make them unique. The leadership lecture series on 'Hearing the unheard: Leadership Development through Feedback' will be the first of its kind in recognising the critical nature of providing and receiving appropriate feedback for leaders.
Speaker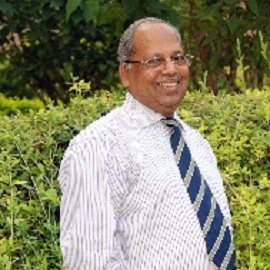 Dr. T. V. Rao is currently Chairman, TVRLS. He worked as a Professor at IIMA between 1973 and 1994 and a Visiting or Adjunct Professor since then till 2013. He also served as a member of the IIMA Society and the Board of Governors. Dr. Rao along with Dr. Udai Pareek conceptualized and initiated the concept of Human Resources Development and HR a function in the corporate sector in 1974-75. Dr. Rao is the Co-Founder and first President of the National HRD Network, and the Academy of HRD. Dr. Rao worked as a short-term consultant to UNESCO, Bangkok; USAID Indonesia for the Ministry of Health, Indonesia: NERDA, Malaysia; FAO Rome; and the Commonwealth Secretariat, London. Dr. Rao's Leadership Development methodology using feedback from known people, started in mid-eighties along with other colleagues at IIMA on "Leadership Styles and Organizational Effectiveness" became very popular. Dr. Rao's HRD audit methodology and HRD Score card 2500 are first of its kind in this part of the world.

Dr. Rao has authored or co-authored or edited by now around sixty books dealing with OB, HRD, Education & Health, Entrepreneurship Development etc. Dr. Rao's most recent publications include Managers who Make a Difference (IIMA Books, Random House); Hurconomics: for Talent Management (Pearson Education, 2011); Nurturing Institutional Excellence: Indian Institute of Management Ahmedabad. (Edited by Vijaya Sherry Chand and T. V. Rao, MacMillan India, 2011) and 100 Managers in Action (Tata McGraw-Hill, 2012), Effective People (2015). Dr. Rao received several awards including Ravi Matthai Fellow from AIIMS, Lifetime Achievement Award from Asia OD Network and INDAM. In 2019 The Asia Pacific Federation of Human Resources conferred on him Asia Pacific HR Professional of the year 2019 at Taipei, Taiwan.