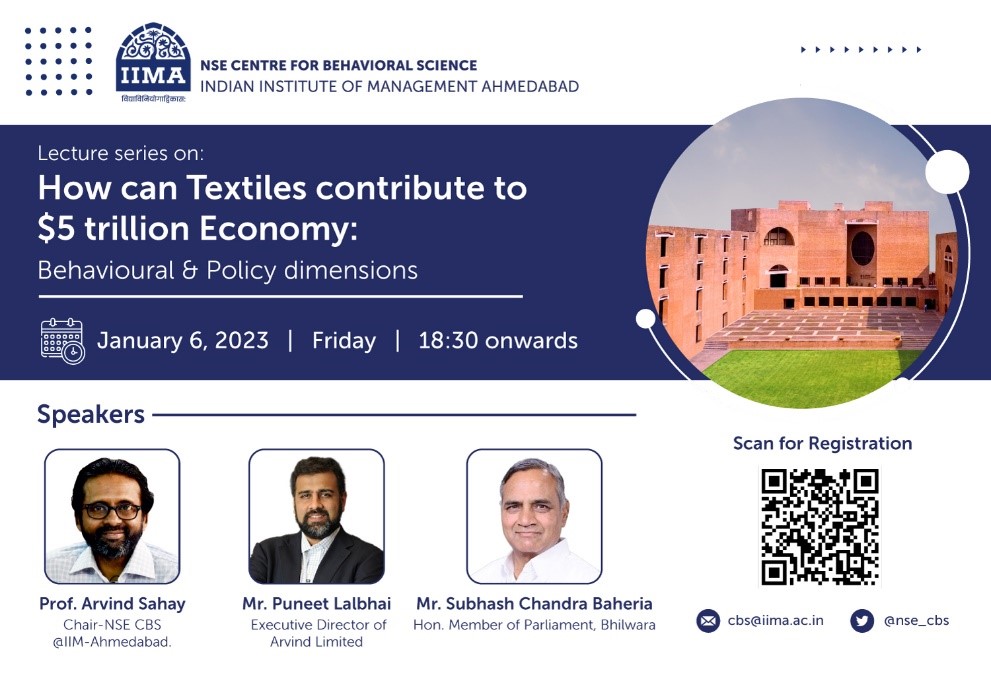 How can Textiles Contribute to a $ 5 Trillion Economy: Behavioral & Policy Dimensions
Subhash Chandra Baheria is a Member of Parliament in Bhilwara and a Member of the Standing Committee  on Textiles and Labour while Puneet Lalbhai is the Executive Director at Arvind Mills. Prof. Arvind Sahay is a Professor of Marketing & International Business and the Chairperson of the NSE Centre for Behavioral Science at IIMA. Prof. Sahay is also the author of, 'Brands & the Brain' published by Penguin Random House in 2022.
Mr. Baheria opened the interaction by talking about the key challenges that are faced by the textile industry. These revolve around technology, regulatory perspectives, human skills, markets, and demand. With over 45 million people employed, the textile industry in India is a $ 200 billion industry which forms 10% of domestic exports. For a 10% share in the $ 5 trillion dollar economy, the industry would have to become a $ 350 billion industry in eight years.
As an example of technology and its use in textiles, Bhilwara which produces 5 lakh meter/month in 1982 now produces 09 crore meter/month. India is the largest cotton and jute producer, second largest textile manufacturer but the third largest in textile exports. Taxation policy is an issue that has led to an imbalance between production and exports. At a global level, manmade to cotton textiles stands at a 70:30 ratio. However, in India, it is other way round because synthetic textiles have not been given a preference in Indian policy. For example, GST was planned at 5% for cotton and 12% for synthetic fibers which affect this ratio adversely. However, the rate has changed for both and stands at 5%.
To address technology-related issues in terms of man-made fibers, the government came up with a Technical Upgradation Fund which contributed to 40% of the recent growth in the textile sector. The government has also started projects related to technical textile flourishment. Examples of these textiles are the garments used by Indian military in glacial regions to keep the cold away. These textiles are costly and are currently being imported. Domestic research needs to be conducted to open possibilities of bringing these technologies to India. Another challenge is that Indian producers are demand-driven and are not researching consumer taste and behavior. Behavioral science research can help understand public demand and taste and this will help to better forecast the future of the industry.
According to Puneet Lalbhai, the textile industry has been characterized by four major themes. Firstly, China controlled 40% textile market for around 3 decades and India captured about 4%. Over the last couple of years or so, China's share has shrunk to around 23% and is expected to shrink further. India, therefore will be presented with the opportunity to fill this space. India is strong in fiber, yarn and fabric but extremely weak on garments.
The second major theme revolves around textile consumers of textiles and garments are behaving. The third trend is how individuals are buying and using e-commerce for this industry. The fourth theme revolves around climate change. The textile industry, after steel and power, is the most carbon and water-intensive industry. India might miss the carbon footprint target of 2030 if manufacturing techniques do not change. While there are threats, there are also opportunities.
Lastly, Lalbhai talked about the productivity gap. The productivity norm in the Indian industry is 46% while in Vietnam for example, the productivity norm is 75%. This is a massive barrier to scale. This is inherently an industry issue which should not be thrown on policy issues; in fact, the textile industry has been a beneficiary of successive policies from the government. The solution to this is to pay attention to the discipline, industrial engineering, technology and training and people development. Indian factories have about 2000 workers in each factory while the international norm is 10,000 workers in one factory. India needs to move in this direction and focus on innovation in order to move towards the goal of becoming a $ 05 trillion market.