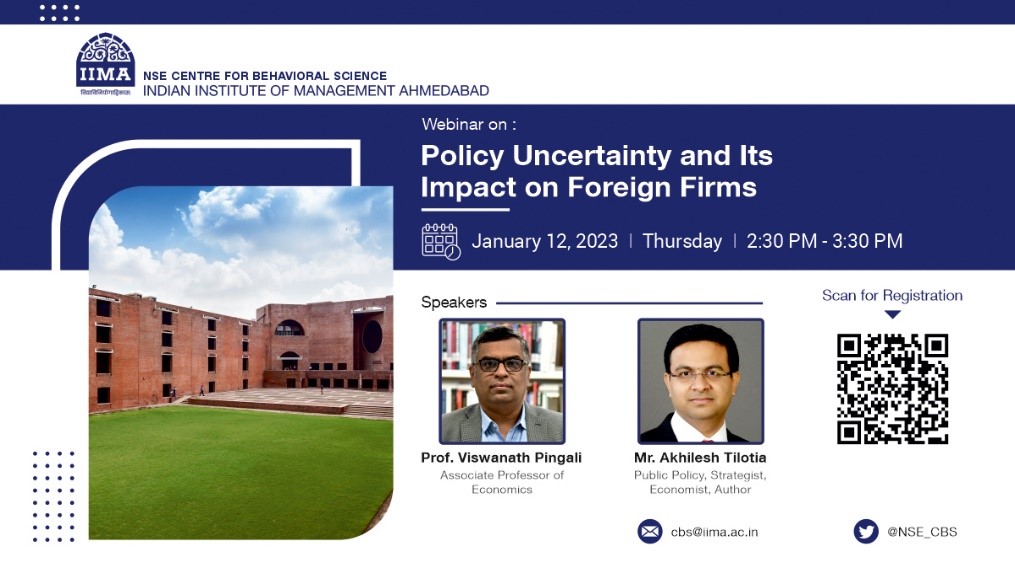 Policy Uncertainty and its Impact on Foreign Firms
An alumnus of IIM, Ahmedabad, Akhilesh Tilotia works with the National Investment and Infrastructure Fund (NIIF) as Head of Research and Chief of Staff to the CEO. Akhilesh is a keen observer of the economic, political, and social landscape of India. In his previous roles, he has led Strategy and New Initiatives for Axis Bank, worked with the Kotak Group, and The Boston Consulting Group, and was a co-founder of PARK Financial Advisors. Prof. Vishwanath Pingali is currently Associate Professor of Economics at IIM, Ahmedabad. Dr. Pingali's areas of research include Applied Game Theory, Industrial Organization, Pharmaceuticals, Behavioural Economics, and Regulatory Economics.
The panellists on this webinar discussed how foreign and domestic firms react to policy uncertainty in emerging economies. Policy uncertainty is an inherent challenge faced by emerging markets. Unanticipated policy uncertainty may arise on account of three key instances:
1. Prerogative of the Executive: There is often an outcome that the executive wants to achieve through policy change such as the demonetization of currency notes in India.
2. Surprise Timing: The policy change may be potentially a good action to take but it arrives at short notice such as a tax change.
3. Exogenous Factors: The policy maker is forced to take an action such as the Global Financial Crisis, or the pandemic.
A stark difference exists in how foreign and domestic firms react to policy uncertainty in an emerging economy. Domestic and foreign firms in emerging economies face high-velocity environments with rapid institutional changes and weaker factor and product market institutions. Such dynamism can be attributed to policy uncertainty resulting from frequent changes in government policies. Firms tend to mimic the behavior of local firms to reduce the risk of operating in a foreign country referred to as institutional isomorphism. This tendency further intensifies the more distant the countries are to each other on cultural, regulatory, and economic dimensions. And yet, studies show that, with time, these firms can better mimic local firms' reactions.   
The strategies that firms in emerging markets use must differ from the strategies they use in developed markets because regulatory regimes like intellectual property law and price regulations in emerging markets are not fully defined. Domestic firms in these markets expect policy uncertainty and hence can strategize more ably. In the study conducted in 2022 by Vishwanath Pingali, Amit Karna, and Shamim S. Mondal titled, 'Policy Uncertainty and Behavior of Foreign Firms in Emerging Economies', they used fixed effects panel data regression on pharmaceutical sales data on India's cardiovascular segment to measure the market reactions of foreign and domestic firms faced with policy uncertainties.  The study found that while domestic and foreign firms react similarly to anticipated policy changes, foreign firms react more adversely to policy uncertainty. In an internal comparison within foreign firms, late-entrant foreign firms were not as affected as new-entrant foreign firms and reacted less drastically as compared to new firms. This suggests that foreign firms also learn policy uncertainties and begin adapting to them with time. But for a new entrant, initial navigation may be a challenge. The study demonstrates that adaptability is the key for new foreign firms to face policy uncertainty.