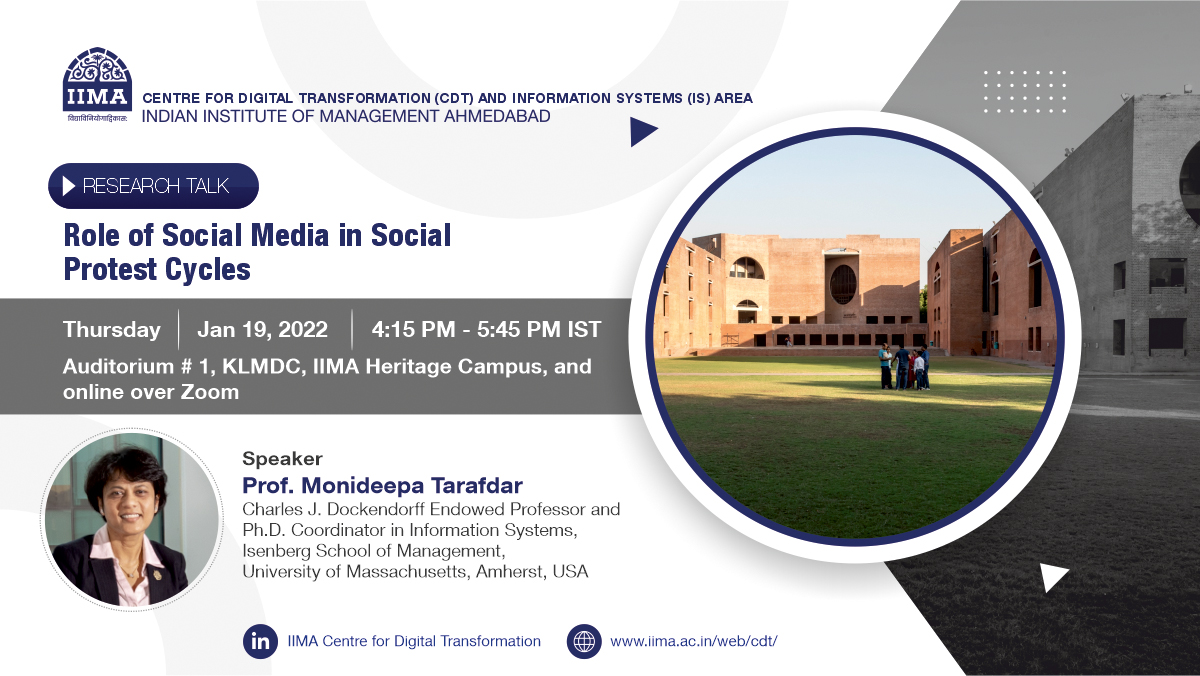 Abstract of the Talk: Role of Social Media in Social Protest Cycles
(Monideepa Tarafdar and Deepa K. Ray [December 2021 Issue, Information Systems Research])
Contemporary social media-fueled social protest is self-organized, rapidly dynamic, decentralized, constitutes vast populations, and is shaped by multiple and concurrent channels of information flows. Who can forget the powerful images of the many different social media-fueled protests, across the world, from 2018 through early 2021? Such protest activity is captured in the concept of 'social protest cycles', which are short periods of intense and contentious protest activity characterized by temporal dynamics, a large repertoire of protest action, confrontation and potential violence, and possible institutional action. They are the micro-foundations of long-term social movements. We conceptualize the social media-enabled social protest cycle as an assemblage having social (e.g., people, elected leaders, police, judges, etc.) and technical (social media applications, online petition applications etc.) components and analyze how it transforms through performative intra-actions. The empirical context is a social media-enabled social protest cycle that emerged following a fatal rape incident in New Delhi, India. Through mixed-methods analysis of longitudinal netnographic data collected from simultaneous protest activity on Twitter, Facebook, YouTube, online blogs, and newspaper websites, we theorize three intra-actions - Consolidation, Expansion, and Intensification - and explain how they transform the social protest cycle over time. The paper contributes to the IS literature that studies social media-enabled social protest action.
Bio of the Speaker:
Monideepa Tarafdar is a Charles J. Dockendorff Endowed Professor at Isenberg School of Management, University of Massachusetts Amherst. Her prior appointment was as a Professor at Lancaster University, UK, where she co-directed the University's interdisciplinary doctoral program spanning the Schools of Management, Computing and Design, and the Centre for Technological Futures. She has held appointments as Visiting Scholar at MIT Sloan CISR, as Visiting Professor at the Indian Institute of Management Calcutta, and as Senior Research Fellow at Weizenbaum Internet Institute, Berlin. Her research has been funded by the Leverhulme Trust (UK) and the Economic and Social Science Research Council (ESRC-UK); as Principal Investigator of secured funding of over 1.5 million USD. She is a Scientific Adviser to a Dublin start-up that designs programs in the well-being-oriented use of IT for schools and corporates and is an invited member of the policy sub-group on Digital Skills of the UK Government's Department of Culture, Media and Sports. Her current research focuses on, among other topics, the societal impacts of social media, AI, and bias, and beneficial and non-beneficial stress from the use of IT across different industry sectors. She serves as Senior Editor at Information Systems Research and Information Systems Journal, as guest Senior Editor at the Journal of AIS, and on the Editorial Review Boards at Journal of MIS, Journal of AIS, and Journal of Strategic Information Systems.