How to Apply?
Selection Considerations: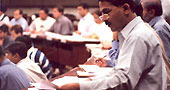 Participants should have post-graduate level teaching experience in management or research experience of at least two years. Preference will be given to participants less than 45 years of age. Past experience indicates that participants in the early stages of their teaching or research careers benefit most. Since the FDP is offered in the English language, participants are expected to be fluent in English. Considerations for selecting participants include teaching and/or research experience, level of preparedness for the programme as indicated by educational qualifications and statements of purpose, and anticipated benefits to sponsors. There is limited number of seats in the programme. The FDP Committee at IIMA will review applications and may conduct telephonic interviews where required to decide suitability for admission of candidates applying under the three certification options (i.e, A, B & C).
For more information on application procedures, write to the following address:
Faculty Development Programme Office
Indian Institute of Management
Vastrapur, Ahmedabad 380 015, INDIA
Phone : 91-79 – 71524961
Fax : 91-79 – 26306896/71526896
Email: fdpoffice@iima.ac.in
WhatsApp: 9909038704
Note: While communicating by WhatsApp, please mention your name, email id and name of your institute/organization.